October 11
(The following obituary was written by one of my mother's colleagues and published in The Age in October 2020.)
Margot was the best of us. She was a life affirming humanist, artist, environmentalist and scholar. She was a mentor to many and a much-loved friend. But at the heart of it she was a deeply passionate member of a large and brilliant family who sustained her through loss and love.
A classical musician who trained at the Melbourne University Conservatorium, Margot was a brilliant pianist and oboist who played in orchestras in the UK and Australia, and in recital on the ABC. She married a musician, Glenthorne Prior, who she met when she was a student, and with whom she had three children, Yoni, David and Sian.
While the couple were living in Brisbane and Glen was playing with the Queensland Symphony Orchestra, he drowned while saving two colleagues who got into trouble in the surf. Margot was left a widow, with her youngest child just three months old, and the eldest five years old.
Through necessity, Margot returned to Melbourne and study, retraining as a psychologist at Monash University. Having distinguished herself with a master's degree which was focused on the then little-known condition of autism. She was offered a tutorship and began a PhD, the latter also on autism, which she completed in just two-and-a-half years, a rare feat. Margot published the first Australian journal article on autism in 1973, later to become known as autism spectrum disorder.
Margot remarried in 1969 and is survived by her adoring husband John Hansen, who had four children of his own, creating a large and blended family.
In the midst of this busy time, Margot completed her PhD and took up an academic position at La Trobe University in 1976. It was here that she shone most brightly. Her interests grew to encompass many other early childhood conditions, including attention and language disorders.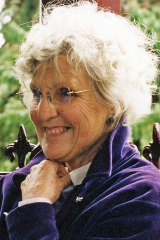 Her interests in clinical and developmental child and family psychology led to her research in childhood temperament, and she is well recognised as the architect of the Australian Temperament Study, which began in 1983 and continues to this day. This study, one of very few that has examined three generations in a single project, has had a major impact on social policy in Australia, and developmental science more broadly.
Margot made highly distinguished contributions to the scientific investigation of child psychology and the application of developmental research to clinical practice and social policy in Australia and elsewhere.
During much of this time, she continued to play in orchestras, which made for a full and busy life. Music remained a core part of Margot's life to the end, but she eventually stopped working as a professional musician as the demands of academia and family life consumed much of her time.
Margot's career blossomed and she was recognised as a leading figure in the field of psychology, becoming the first female professor of clinical psychology in Australia in 1989, and establishing the first clinical psychology doctoral program in the country.
Beyond her scholarly and academic work, Margot has been a prominent voice for child welfare, peace and social justice initiatives. She was one of the founding members of the Psychologists for the Prevention of War and co-established the La Trobe Institute for Peace Research. She also co-founded the Victorian Parenting Research Centre in 1997 (now the Parenting Research Centre) and contributed to the development of diagnostic standards for autism in Australia.
Margot moved to the University of Melbourne to take up the position of inaugural director of psychology at the Royal Children's Hospital in 1995, where she continued her stellar work. In addition to leading research in the area of developmental psychology and psychopathology, Margot mentored a generation of early career scholars and clinicians and was well regarded for her warmth and generosity and well as her fierce intellect and commitment to social and welfare issues. She was a widely read newspaper columnist and media commentator for many years, her advice and opinions doing much to raise the level of public understanding about child development in Australia, and autism in particular.
Her work frequently led her overseas to present at many academic forums, including chairing the Social and Human Sciences Network for UNESCO (2005-2007). She would also travel on missions to places like India and Vietnam to undertake development work including training clinicians to support children with developmental challenges. She was often the go-to person for issues on child development, being invited to write reports for government, and even providing evidence in court for cases involving children. She had a keen interest in indigenous affairs and volunteered in an inner-city Aboriginal Health Service for many years.
Following retirement from her position at the Royal Children's Hospital in 2002, Margot continued her involvement in research at the University of Melbourne and La Trobe University. She was the inaugural chair of the Advisory Committee of Australia's first autism research centre at La Trobe, the Olga Tennison Autism Research Centre, established in 2008, and held this position until her 80th year.
The Victorian Autism Specific Early Learning and Care centre at La Trobe was named after her in recognition of her long contribution to autism intervention science and service. She was also a patron of Amaze, the peak autism body in Victoria.
Margot had a long and illustrious career during which she received many honours including being made an Officer of the Order of Australia in 2004 and being named Senior Australian of the Year for Victoria in 2006.
She was a fellow of the Academy of the Social Sciences in Australia and of the Australian Psychological Society, where she also received the President's Award for Distinguished Contribution to Psychology in Australia. In 2016 she was awarded a doctor of science (honoris causa) for her distinguished contributions to scientific and clinical knowledge of developmental psychology, and in 2018 received the Lifetime Achievement Award from the International Society for Autism Research.
Margot was a pioneer and leaves an important legacy. Hers was a life well lived, to the fullest, and one that will be celebrated for a long time yet. Those of us who knew her, worked with her and loved her were indeed blessed.
She is survived by husband John Hansen and three children Yoni, David and Sian Prior.
Professor Cheryl Dissanayake is director and chair, Olga Tennison Autism Research Centre School of Psychology and Public Health La Trobe University, Bundoora campus.
October 5
I used to think the greatest gift my mother gave me was music. She taught me to play the piano, encouraged me to join choirs and orchestras, and accompanied me as I sang. At her surprise sixtieth birthday party, my siblings and I thanked our mother by singing her favourite songs in four-part harmony, including Ian Dury's 'Sex and drugs and rock and roll'.
I've recently changed my mind. Music makes me happy, but the greatest gift my mother Margot gave me was a respect for science, and for what she calls 'the evidence'. As a professor of psychology, she set up rigorous research projects, then worked out how the evidence they produced could help people live better lives. Margot had no time for snake oil sellers spruiking miracle cures – 'there's simply no evidence', she'd say with a beatific smile.
Three decades ago, in my work as an environment campaigner, I looked at the scientific evidence of ozone depletion and used it to argue for phasing out ozone-destroying chemicals. More recently, as a journalist, whenever I've read or heard something that seems implausible, my mother's voice echoes in my head – 'where's the evidence?' – and I delve a little deeper.
In this frightening new age of fake news, conspiracy theories and 'feel-pinions', Margot's advice has never felt more urgent. Conspiracy theories might make you feel good, allowing you to believe that nothing is your responsibility and that malevolent forces, rather than complex human behaviours and systems, have created All The Problems. But most conspiracy theories are without credible scientific evidence, and 'feel-pinions' are usually feelings that morph into opinions that morph into antisocial behaviour.
Take those protestors who've been dismissing the threat of Covid-19, for example, and ranting against mask-wearing and social distancing. They could do with some stern advice from my mother. Their protests may have given them fifteen seconds of fame on the nightly news, but their views are not supported by scientific evidence.
Unfortunately I can't organise for Margot to speak with them. Turns out the health experts were right about the dangers of Covid-19. A month ago, this virus took my mother's life.
So to all those anti-lockdown, anti-mask, antisocial protestors, here's a tip. If a bunch of highly respected scientists advise you there is no evidence for your conspiratorial feel-pinions, please think again. Lives may depend on it.
(This column was first published in The Sunday Age and the Sydney Morning Herald in October 2020)
August 29
August 24
Want to hear a good news story? Fifteen years ago I travelled from the north to the south coast of Timor Leste to visit some friends. We hadn't met before, but we were officially friends, courtesy of an agreement between my local council and theirs. In 2005 there were a handful of 'friendships' between Australian local governments and East Timorese communities. The City of Port Phillip, where I was living, had befriended the town of Suai in the district of Covalima, and I was curious to see what that friendship looked like.
It was a perilous drive over the mountains, a reminder of how isolated many Timorese towns are from the capital Dili. In mid-winter the town of Suai was dry and dusty, and skinny chickens pecked hopefully in bare yards. Evidence of the violent Indonesian withdrawal from Timor Leste could still be seen in Suai's churches, where 200 people were massacred in 1999. Only half the town had electricity each day, so every second night the Suai market was lit by candles. But there were signs of recovery.
In the new community centre, computer and sewing classes were in full swing, funded by the Friends of Suai/Covalima. I camped on a stretcher bed in the community centre, and the next day visited the local hospital, where the Friends were funding a program to feed malnourished patients. At a local pre-school partially funded by the Friends, children sang songs for me and demanded a song in return.
In the decade and a half since I visited Suai, the Friends group has helped the community centre set up a Rural Women's Development Program, allowing local women to run campaigns against domestic violence, and sell traditional handicrafts. There's a reforestation program which has led to 10,000 trees being planted. Port Phillip residents have volunteered as election monitors and English teachers in Suai, and scholarships have allowed 160 young locals to train as teachers and health care workers. Right now, some of those trainees are raising awareness about hand hygiene, to keep Covid-19 at bay.
We've all become anxious about statistics since that damned virus appeared. Here are some happy stats: there've only been 25 confirmed Covid-19 cases in Timor Leste, and no deaths. There are now 50 friendship groups between Australia and TL. It only takes 100 minutes to fly from Darwin to Dili. When we've beaten the virus, let's go visit some friends.
(This column was first published in The Age and the Sydney Morning Herald in August 2020)
July 13
Sometimes you get lucky with family. I have an aunty who's taught me so much about the world, it's hard to know where to begin. When I was a child, she spent an hour with me every Sunday evening, introducing me to the joys of pop music. She loved the classics too, and together we listened to the great works of Bach and Beethoven, Mozart and Mahler on the radio.
My aunty also knew heaps about science. Stars, planets, birds, whales, ozone depletion; she kept up with the latest research about all of them and shared her knowledge with me. She stayed abreast of current affairs, too, and educated me about political parties and elections.
Hard to believe, I know, but my aunty was also an arts aficionado. She'd seen all the latest movies and plays and gave me potted reviews of the books she was reading. But our interactions weren't all about education. We both loved a laugh and my aunty introduced me to the genius of The Goon Show and those Clarke and Dawe interviews.
As I grew older my aunty looked out for me in different ways, offering me interesting jobs and showing me how to tell engaging stories. Eventually I moved on to other work, but everything she taught me has proved to be useful in everything I've done since then.
My aunty has always been great in a crisis. I don't know how our family would have got through the catastrophic bushfires last summer without her, or the COVID 19 lockdown. She's been calm and clear and comforting.
Mind you, not everyone in the family is enamoured with her. Some envy her talents and resent her popularity. They bad-mouth her all over the place, claiming she has more money than sense, even though they know full well she's never been wealthy. Secretly these detractors in the family must be wondering how our aunty has achieved so much with so little.
Recently things have taken a turn for the worse in Aunty's life. Some of our less savoury family members have gained access to her financial resources and have been siphoning money off, leaving her struggling to stay afloat. Some have even started campaigning to eject Aunty from the family forever.
Let's call a spade a spade. It's elder abuse. Unless more of us are willing to stand up to the aunty-haters in the family, she could soon disappear.
(Sian Prior has worked for 'Aunty' ABC as a reporter, producer and presenter on radio. This column first appeared in the Sunday Age and the SMH in July 2020)
June 1
One of the things I miss most about life before You-Know-What is singing with choirs. Monday nights you would normally find me hanging out with a chamber choir. Wednesday nights it was a French choir, and on Sunday nights the neighbours had to put up with my noisy quartet. Tiring days morphed into inspiring nights when I was making music with other tired-then-inspired choristers.
It's not surprising that so many recent ads and viral videos have featured people singing alone-but-together. Italians crooning from their balconies; nurses performing in hospital wards; TV actors serenading us from multi-screen ABC promos – they're all responding to the same human need for communal hollering.
Three decades ago, my love of singing led me to start up the Victorian Trade Union Choir. Every Thursday night we gathered in a faded ballroom at Trades Hall and learnt songs about red flags, shearers strikes and workers' rights. When Nelson Mandela was released from prison and visited Australia for the first time, we serenaded him with the ANC anthem at the Melbourne Town Hall. On the anniversary of the Indonesian invasion of East Timor we belted out the theme song of the Timorese independence movement.
We sang at church services to remember workers who'd died on the job. We performed at Hamer Hall on Labour Day and on the back of a truck on May Day. We warbled on a Wodonga picket line at dawn, then warmed our hands over flaming forty-gallon drums with striking meatworkers.
I spent three years conducting the group before handing the job over to others. Those Thursday night gatherings at Trades Hall continued, and this year the Trade Union Choir members were planning to celebrate their thirtieth anniversary. Like most singing groups, though, they've had to press pause on live rehearsals. In the early days of You-Know-What, there were some alarming outbreaks – and fatalities – in European and American choirs. Large group gatherings for choristers will be out of bounds for a while yet.
The members of the Trade Union Choir are currently doing Zoom rehearsals on Thursday nights, soloing at home with their mute buttons on. It's a far cry from the days when they sang their lungs out for sacked maritime workers in the 1998 waterfront dispute.
In case we don't get a chance to celebrate the big three-oh together – Happy Birthday, comrades. I'm so proud I could burst.
(This column was first published in The Age and The Sydney Morning Herald in May 2020)
May 8
(This essay was first published in The Big Issue in April 2020)
It's summer and I'm at a surf beach on the west coast. I had planned to have a quick swim and then walk the dog, me zipped up in my wetsuit, the two of us hermetically sealed in our solitude. But on the beach a family is sitting at a picnic table; a man, two women and two girls. As I walk past them the girls spring up from the bench seat and lunge towards the dog.
'Oh oh oh, can we pat her?' Jazzy is instantly ready for play, leaping around them and barking. 'Oh, can we play with her?'
Dark eyes, mid-teens, tight blue jeans, but still children when it comes to dogs and the chasing of them. I laugh and laugh at their dancing game, grit kicking up around them, Jazzy swerving so the girls lunge and fall in the soft dry sand.
At the picnic table the two women in headscarves nod and smile at us, as the girls pick themselves up and come towards me.
'What's your dog's name?' The older one speaks in a rush. 'We had a dog, he was a Jack Russell cross, we loved him so much, but we couldn't look after him, mum said, so we gave him away to one of mum's clients, but we miss him.' And now they're off again, chasing Jazzy to the water's edge and back.
'Are we holding you up?' the older girl asks.
'No, I'm just about to have a swim, you go right ahead.' I inch my way through the biting waves, glancing back at the dancing trio.  Oh, to be able to run like that still, to fall with impunity, to have teenage daughters to run with, fall with, laugh with.
As soon as I come out of the water they're by my side again, telling me more stories about the Jack Russell, about puppy school, about their aunt who's come from Turkey to visit them.
'Where do you live?' I ask.
'In Victoria. Oh, you mean what street – no, what suburb?' They look at each other, shrugging. They don't know.
I play a guessing game. 'The west? The east? Did you come over the West Gate Bridge?' They don't know where they live. They live at home, with mum and dad. That is enough.
In between quizzing me they speak Turkish to each other and I love how it rushes from their lips, all sibilant like the waves behind them. And then they ask me that question.
'Do you have children?'
There is a pause – the first pause – in the conversation.
'No', I say eventually, but they are waiting for more.
Not here. Not today.  Finally, I say, 'Jazzy is like my child.'
Then on they go, telling me their names are Joozher and Azra, laughing about how, if you put their names together, you'd get something like Jazzy. They talk about the boys who break the rules at their high school, and more about their lost dog, and then somehow it is time for me to go, because I cannot keep them.
I walk slowly up the hill to the borrowed beach house, full of their beauty and openness and unknowingness, and with the fact that they are not mine.
Later in the evening I make myself walk down the hill to the pub, but it is a mistake. It is all and only families, clusters of kids being herded and fed, and nowhere for me to sit. I lean against the balcony railing and sip my wine and fiddle with my phone and watch the children, the easy chatting, the blurred lines between family units, and today it is too hard.
So I take my glass and head back to the beach, where I sit in the sand, gulping the wine and staring at the grey ocean. When the wine is gone I walk home fast, waiting to feel Jazzy's sandy paws jumping at my knees.
May 4
We're all in an upside down world. Outside life has moved inside. Easy has become hard. But sometimes reversals can be positive. I've been writing a list of things that used to be annoying but that are now comforting.
The tradies working two doors down from me, for example. Their blaring radio and incessant hammering used to drive me bananas. I'd slam doors and jam in earplugs, trying to shut out the cacophony. Now I go out into the backyard just to hear them cursing while they work. Something normal is still happening, I tell myself. Someone's making progress.
Ditto with the garbage trucks Bin morning used to be a trial, woken before dawn by the crashing of bins and roaring of engines. Now I look forward to the garbos' arrival. The rubbish is still being collected, I reassure myself. We're not going to be buried alive in our own waste.
And then there's exercise. I've always hated it – a necessary evil in a desk-bound life. I'd procrastinate all day about doing my laps or walking those ten thousand steps. Now I can't wait to get out of the house and stride along the Merri Creek, marvelling at how birds can still sing in the midst of a pandemic.
My overstuffed shoulder bag is on the list. Years of scrabbling around in the bottom of a bag of detritus to find whatever I'm looking for. The bag is even more stuffed now, but the things in it are comforting – plastic gloves, tissues, a face mask, liquid soap, a water bottle, hand sanitiser, my phone, more plastic gloves. Self-protective items for a scary new world.
My overstuffed bookshelves were another irritant. Novels I read decades ago and haven't touched since. Memoirs I've been planning to read for decades but haven't opened yet. All of them gathering dust, taking up space, reproaching me. Now at last I know why I've hung onto them – for a moment in history just like this. Stories will keep me sane.
The list of unexpected comforts keeps getting longer. Junk mail deliverers. Overly-cheerful radio presenters. Even deadlines, those monkeys on my back, nagging at me to get back to work. This year I have a scary publishing deadline – six months to finish writing a book about the past. Thank goodness. Something to take my mind off the present. What's on your list?
(This column was first published in The Age and the Sydney Morning Herald in May 2020)
April 6
I've been thinking a lot about grief. About all the fierce private griefs sheltering underneath the grand communal grief of COVID-19.
My neighbours whose darling dog is dying. My friend who has spent 3 years building up her brilliant music course and now it has all fallen apart – and one of her students is dying of the virus. My parents, separated first by dementia and now by a nursing home lockdown – which dementia renders inexplicable for my mother. My friend whose 3 adult children are all dealing with serious illness, and she can't go to any of them. My many friends in the arts whose projects and livelihoods have evaporated in the space of a few days. Other friends and relations who may read this post and who are dealing with their own unmentionable sadnesses. And we are all so powerless to fix it.
All I can do is keep you all in my mind. Know that I see you and I love you.
March 23
Patience has never been my best thing. Suspense plots drive me nuts. I can't watch murder mysteries because waiting to find out whodunnit makes me grit my teeth. Being stuck on hold on the phone makes me bite my nails. I can't even play the card game 'Patience' because, well, it's obvious.
There've been times when I've had no choice but to try and be patient. It's an unavoidable part of 'adulting' – waiting for test results, or for the outcome of job interviews, or getting stuck in traffic jams. My nervous system invariably punishes me afterwards for denying it the fight or flight options it craves.
It's always baffled me why the word for a sick person is 'patient'. Some of my most stressful times have been as an impatient in-patient. Many doctors and nurses have copped my baleful glares as I've been forced to wait for their attention. And I'm not alone with this Patience Deficit Disorder.
Driving around this clogged city in recent years I've noticed more and more agitation amongst my fellow drivers. Horns toot if you don't take off within a millisecond of the lights turning green. Impatient drivers flip you the bird as they overtake you – and the speed limit. And we've surely all vented at hapless call centre staff while we waited for someone to solve our problems with technology or bills or bookings.
This stuff is only going to get harder. Dealing with novel coronavirus is going to require superhuman patience from all of us. We won't be able to do whatever we want whenever we want to. We'll have to wait, or postpone, or cancel. We'll have to adapt, and then adapt again. We'll have to be slow and cautious rather than carefree and impulsive.
And we'll have to be extra patient with the people around us whose worries are slowing down their thought processes. Psychologists have demonstrated that anxiety can impair cognitive functioning, making it hard to concentrate. We'll probably all feel a bit stupid at times, because fear is chewing up our brain space.
Above all we'll need to be patient patients. Medical workers and carers are going to be overworked and mega-stressed. There may be a lot of waiting ahead. So take a few deep breaths, grit your teeth (but don't bite your nails) and hang in there, folks.
(This column was first published by Fairfax in March 2020)
Older posts:
Upcoming Events
Past Events