July 12
In late June I climbed into my new campervan and headed north over the border to New South Wales. Avoiding the coast, I noodled through the countryside, enjoying the big skies and the fresh air. After last year's long lockdowns it was such a luxury to be able to escape Melbourne and re-visit the towns I'd travelled through in my first van journeys just a few years ago. Made it over the next border to Queensland, where i'll be staying for another week. Then it's back to home quarantine in Melbourne. Here are a few happy snaps of me n Jazzy enjoying our freedom.
June 20
1. Tonight at the end of our street a woman was having an acute episode of psychiatric distress. Neighbours called police and ambulance – CAT team clearly required. We got six cop cars, one cop chopper, two fire trucks. Then, 45 mins later, an ambulance. System's fukt. #mentalhealth
2. One cop threatened to 'deal with me later' because I was watching from the other side of the street, concerned for woman's welfare as cops in riot gear knocked on her front door. So I started video'ing.
3. Two decades ago the husband of one of my friends had a psychotic episode on Bondi Beach. Police surrounded him and shot him dead.
4. Didn't want to see history repeating. Cops said neighbour and I were being a 'hindrance' to their operation. From the other side of the road?? Hoping the video'ing might have been a 'hindrance' to a police overreaction to a woman suffering deeply.
4. I'm sad and angry. We just had a Royal Commission into Victoria's Mental Health System. This was a real life example of how terribly we are failing – and misunderstanding – people who are suffering. No one thought to ask the neighbours abt family members who could help her.
5. I know there are other versions of this story. I'm sure police thought they were protecting others from potential violence. But 'simple' responses to complex human problems don't work. The woman was terrified. Cops could have asked us what had happened rather than threaten us.
6. Meanwhile a guy who believes in the nuttiest and most dangerous conspiracy theories (deemed terrorism in the USA) has been happily house-minding the PM's residence. Upside down world. #auspol
April 29
It's 1989 and I'm cycling slowly across a bridge spanning an eight-lane freeway, on my way to save the planet. I've spent the last three years campaigning on ozone depletion and global warming for the Australian Conservation Foundation, trying to wrap my un-mathematical brain around the delicate sciences of climatology and oceanography. I've learnt things about the workings of the circumpolar vortex and the potential loss of island nations I would rather not know. The world has become a different place, full of institutional roadblocks and oblivious over-consuming humans. I'm not sure how to turn those delicate sciences into powerful stories that will nudge people into action.
At least one of my campaigning mates has given up on the idea of having children. When he turned thirty, he had a vasectomy. 'Adding to the population will only make things worse,' he told me. 'Why create people you love and condemn them to an uncertain future on an over-heating planet?' But I still want a child. Not right now, I'm too young, too busy, but later, definitely. And my child will help to save the planet, just like me. Well, she'll try.
Cycling against the wind I turn my head to the left and see long lines of vehicles stretching eastward to the outer suburbs of Melbourne. The cars are not moving. They're idling, waiting for the peak hour crush to dissipate, spewing carbon dioxide into the atmosphere. I brake to a standstill on the side of the bridge, stare at the ribbons of cars stretching to the horizon, and it overtakes me at last, the dread I've been pushing down for the last three years. It rises from the pit of my gut to my throat and now I'm whimpering. Standing astride a stationary bicycle above the freeway, fingers white-knuckled on the handlebars, I'm crying, because now I know. I can't do it. The end of the world is nigh, and it's my fault because I haven't done enough, and I can never do enough. I'm too young and too tired and too afraid of the future. I swivel the bike around, scrape away the tears and ride home again as fast as my legs can manage.
Three decades later a Swedish schoolgirl is addressing a United Nations summit in New York about climate change. Or rather, climate inaction. The world is still getting warmer and the adults in charge are still dragging their feet. Greta Thunberg is snarling. She's lecturing the grown-ups about tipping points, feedback loops, climate justice, betrayal and forgiveness. She wants to cry, I can feel it in her throat, but she won't. She is a genie released and she is trying to magic up some shame, before it's too late. I do the maths. She is exactly the age my first daughter would have been. And I'm one of the grown-ups she's lecturing.
It's 2019 and people are debating why fewer Australian women are having children. The Bureau of Statistics reports that the birth rate in the last couple of years hasn't been this low since the turn of the century. A newspaper opinion writer claims that childless women are 'opting for fur-babies' because they're 'scared of lifelong responsibility'. I look up from the newsprint and watch the small black dog chewing on a sock at the end of my bed. Sometimes I call her 'baby', it's true. But when it comes to parenting, she wasn't my first choice of species.
Maybe the women who the opinion writer is denigrating don't have as much choice as she thinks they do. Infertility affects about one in 6 couples in this country. And if some women are actively choosing not to have children, maybe there are reasons other than selfishness. According to a recent survey by the Australian Conservation Foundation, a third of Australian women are reconsidering their plans to have children because they believe climate change has created 'an unsafe future'. Maybe it's not freedom from responsibility these women crave, but freedom from guilt. Or from fear.
I knew the future could be unsafe three decades ago, when I was campaigning on global warming for the ACF. But I still wanted a child, more than anything. Three decades ago – two decades ago – one decade ago – there was still time to make the world safer. There was still hope.
Sometimes I feel only relief that my quest to become a mother was a failure. I've condemned no child of mine to the clean-up job my generation is leaving for the next, and the one after that. I try to tell myself I don't have to care about those future children. I haven't smelt their hair after a shampoo bath. I haven't read them a bedtime story. I don't know what foods they've pushed to the edge of their plate, saving them till last because they taste the best. But the future tugs on me like a child's hand, reminding me that I'm attached to this planet, these people, even the ones I'll never meet. Reminding me what's at stake. 
(This essay was published in The Big Issue in April 2021)
December 21
The purists would say I shouldn't sing Christmas carols. Heathens have no right to be warbling about mangers, angels and holy nights. Strictly speaking, those tunes belong to the faithful, not to atheists like me. But on Christmas day you will usually find me hovering beside the piano, waiting impatiently for the carolling to begin. My mother will play the accompaniment, my sister will sing the melody, I'll find a harmony and my brother will take the bass line. We four non-believers will regale the rest of the family with We Three Kings and none of us will care what the purists think. Besides, everywhere you look, music has become detached from its origins.
Didgeridoo drones are inserted into European electronica. European opera arias are turned into football anthems. Protest anthems are used in superannuation fund ads. Rituals detach from their origins, too. Easter began life as a celebration of the pagan god Eostre. Christmas has become a festival of shopping. Cultural rituals will jump over any fence we try to put around them, so I have no regrets about being a carolling heathen.
In our family, singing Christmas carols is a ritual celebration of our love affair with choral music. My grandfather sang and played organ in his local church, and his siblings and cousins loved to sing around the family upright piano. Both my parents could sing, my sister starred in the school musicals, and my brother and I sang together in youth choirs. In the lead up to Christmas my brother and I used to busk with a vocal quartet in Melbourne's resonant Block Arcade. One year a German man threw fifty dollars notes at us as we sang Silent Night in his language. He was far away from family and friends, and our song had taken him home.
Currently I'm a member of three singing groups. At this time of year, we would usually be polishing up our carols and dragooning our friends into buying tickets to our Christmas concerts. The French choir would be singing Joyeuse Noelle, the chamber choir would be fa-la-la'ing in aged care homes, and the quartet would be sending our 'gloria in excelsis deo' up to the vaulted ceiling of St Paul's Cathedral.
But this year the music stopped. Covid-19, we learnt, can be contracted by inhaling airborne particles, so the chances of creating super-spreader events at choir rehearsals were horribly high. Singing together via Zoom has been almost impossible. The fractional delays between each person's audio transmission result in a hideous cacophony. Muting yourself and singing together-but-alone is a poor substitute. All through the long winter my music folders gathered dust on the piano. Even now, as we creep towards elimination of the virus in this country, most choral singers are too nervous to get together in person.
On Christmas Day the singing members of my family could try spreading ourselves around the piano room, keeping 1.5 metres between us. Or we could turn our backs on each other while we sing. It doesn't sound as much fun as crowding around the keyboard. But there's another reason why our singing voices may remain silent this Christmas Day. We have lost our beloved accompanist. In August this year Covid-19 swept through the aged care home where our mother was living. The virus that stopped the singing also ended her life.
She knew the day would come when she would not be around for the carolling. Every Christmas for the past few years she advised me to start practicing the accompaniment so I'd be ready when she could no longer play for us. She had already swapped her baby grand piano for my old upright, hoping this beautiful object – now ensconced in my living room – would entice me back to the keyboard. It didn't work.
Was this because I didn't want to acknowledge she wouldn't live forever? Or was it something more juvenile – the recurrence of an old irritability? Throughout my childhood Mum insisted I practice the piano and clarinet every day. I loved being able to play these instruments but loathed having to spend hours shut up alone in the music room, tinkling and tooting. When, as an adult, I studied opera singing, my mother's voice was in my head every day: 'Have you done your practice yet?'
Now – of course – I regret having ignored her warnings about the carols. My piano-playing fingers are stiff and forgetful. My attempts to play the accompaniments are just a series of clanging mistakes. Even my singing voice is rusty, after months of no choir rehearsals. Will this be the year when our family carolling tradition finally dies out? I can picture our mother pointing at the silent piano and shaking her head in disappointment.
Maybe there's another way. My nephew plays a mean guitar. Maybe I can hand the baton on to him this year. Perhaps this family ritual can adapt and change. I'm not ready to let it go just yet.   
(This column was first published in The Guardian in December 2020)
November 29
In 2021 I will be running a range of different online writing short courses, in including Writing as Therapy (see below), Refine Your Memoir, Creative Non Fiction and Feature Writing.
Class numbers for Writing as Therapy will be limited to approximately ten participants, but if the course books out I am happy to schedule some more classes.
The next Writing as Therapy course starts Monday 26th April and runs each Monday evening until May 17th. Classes are via Zoom, from 7 pm to 9:30 pm.
ABOUT THE WRITING AS THERAPY COURSE
Writing is a tried and tested method for coping with and understanding personal dilemmas, crises, depression, anxieties, stress and traumatic events. The simple act of putting down words on the page can reflect our attempt to make meaning from the thoughts and feelings and experiences we have. It helps us to gain distance from the things that cause us distress. From keeping a daily diary to penning a poem, all forms of writing can help us to shape narrative from chaos. Therapeutic writing can also help us re-discover our playful selves.
In this four part course I will lead you through a series of ideas and exercises in therapeutic writing, using a variety of techniques and exploring the methods that might work best for you. Each session will involve a mix of listening, thinking, writing, reading and brainstorming.
No experience is necessary and grammar, spelling and writing ability are irrelevant. All participants need to bring is an urge to understand and express themselves, a computer and/or notepad and pen. Everyone's writing will be kept as private as participants wish.
1) The Situation and the Story
'The place to which our writer finally puzzles her way (is): her own mixed feelings. First she sees that she has them. Then she acknowledges them to herself. Then she considers them as a way into the experience: then she realizes they are the experience. She begins to write.' Vivian Gornick.
The first session involves a gentle introduction to some key concepts in writing as therapy, including; catharsis, self-awareness, self-acceptance and self-transformation. Drawing on the work of Vivian Gornick (author of 'The Situation and the Story') we will learn how to distinguish between the 'situations' we find ourselves in, and the 'stories' we want to tell ourselves about our life. We will employ simple writing techniques to identify the internal conversations we have with ourselves (the dialogical self), and learn how these conversations can help us resolve the challenges we are facing.
2) The Made Up Self
'Whenever we write in the first person, reflecting on our personal experience, we inevitably create a version of ourselves, crafting a self out of words'. Carl Klaus
Drawing on the work of sociologist Erving Goffman (who developed self-presentation theory), writer Carl Klaus (author of 'The Made Up Self') and re-visiting the idea of 'the dialogical self', in this session we will look at how we 'perform' our lives, how we 'make ourselves up' in our writing, and how understanding the different 'personas' we perform can help us get distance and perspective on our travails. American writer Ander Monson (in 'Vanishing Point') suggests we ask ourselves 'what's at stake' when we're thinking and writing about our lives. What remains to be resolved? How can writing help us identify and move through the unexpressed choices and conflicts in our lives?
3) The Savage Mind
'I realise it's my own consciousness I need to confront. Perhaps by writing about myself I'll discover my own identity. Regardless, I'll have to stare at the rough edges of sadness in my life.' Patricia Foster
Drawing on the work of writer Patricia Foster (author of 'My Savage Mind') and Jeanette Winterson (author of 'Art Objects') we will look at life writing as a tool for self-understanding and self-soothing. Finding the language of pain – we will examine how employing writing techniques such as point-of-view (eg. first person, second person, third person voice) can help us to find better coping techniques in our lives. Gratitude and hope journals – we'll discover how to use daily life writing to 'accentuate the positive' in our lives.
4) The Honest Self
'We imagine the past – we don't remember it.' John Banville
We are made up of our memories but we also know that our memories can fade, warp and distort, and at times even 'trick' us. These distortions and tricks can sometimes cause us distress – and sometimes they can help us. In this session we will look at how to access faded memories and identify their truth content – both factual and emotional – through writing. Memory vs imagination – we examine how to acknowledge and accept the blur between the two, and employ them both in our writing to access the 'story' in our 'situation'. We will practice 're-writing' difficult episodes in our lives with alternative endings.
ENROLMENT
There are a few options:
Enrol in Part One of the four-part Writing as Therapy course to 'test the waters', knowing you then have the option of continuing and completing the four part course at a later date. Cost: $150 ($120 conc) – deposit $75
OR
Enrol in the four-part course. Cost: $400 ($350 conc) – deposit $200
OR
Enrol in the final three classes of the four-part course, ONLY IF you have completed part one with me previously. Cost: $300 ($250 conc) – deposit $200
(Concession rates available for students, pensioners and unemployed).
To register your interest, please contact me via the Contact page on this website, specifying which of the three enrolment options (above) you prefer. Deposits will be required to ensure you have a place in the course.
To listen to a recent ABC radio interview I did about writing as therapy click here.
November 8
My father is sitting at my kitchen table telling a story about a dog. Many decades ago he was tasked with collecting a guard dog, an Alsatian, from some far away kennels. The owner issued a warning – 'he'll take your arm off if you're not careful'. When my father arrived to collect the dog the kennel people also warned him – this dog was 'real vicious'.
My father knelt down in front of the small cage containing the large dog and spoke to him in a gentle voice that I know well. The dog eventually wagged its tail and then climbed meekly into the passenger seat of my father's car.
It was a long drive back to the city and my father spoke quietly to the dog the whole way. When they arrived at their destination – an isolated warehouse with a high fence inside which the dog would be locked, alone – my father opened the passenger side door. But the dog began to whimper. It didn't want to get out of the car.
At this point in the story my father stops speaking and lowers his head. After a few moments I ask, 'Are you okay?'
He shakes his head, still looking down, and croaks, 'It was just so sad.'
Now we're both looking down at the tablecloth and it's not just because of the long ago dog. In the next room there is a woman lying on my couch trying to remember who she is. That woman is my mother, but at times now I also wonder who she is.
It is two years since my mother learnt she had Alzheimer's. When she first got the diagnosis she wanted to die. She told us so repeatedly. In response, my father made it his mission to try to persuade his wife that life was still worth living.
He has always been inventive. If I ever get lost in the wilderness I hope it will be with my father because I know he will find a way out for us. Over the last two years he has invented entirely new species of hors d'oeuvres to persuade my mother to eat. He has hand-carved elaborate wooden handles for various items of furniture in their home to help her get up and down. He has bought and sold several caravans in the hopes of enticing her to go camping with him one more time.
For his sake my mother has tried to cultivate a taste for life. She has eaten the strange hors d'oeuvres and praised his creativity. For my sake she has tried again to play the silent piano. But the notes on the page won't keep still and the distance between the keys never seems to stay the same. She plays the same bars over and over, wondering why the tune goes nowhere. And one by one her words – the ones she needs to explain her decomposing world to us – have sunk away in her marshy brain before she could utter them.
In the daytime my parents have tried hard to keep to the rituals of their old life. When visitors come my father finishes her sentences for her. The visitors are amazed by their fortitude, and many have been fooled by the brave front. When they leave my mother lies down on the bed again, waiting patiently for something she can't remember.
After dark, though, my mother becomes someone else, a whimpering caged thing roaming the house trying to find a way out. And night after night my father makes her cups of tea and holds her close and tries to talk her back to herself in that gentle voice of his. In the mornings she remembers nothing but he remembers it all, and shakes his head when he tells me the barest details, trying to protect me – the youngest child – from the horror. My older siblings fill me in and we wonder how long it can go on. We worry that our father, our brave captain, will go down with the ship. He promised himself – and us, and her – that as long as my mother knew who he was, he would keep caring for her at home.
A man in his eighties with a dicky heart can only go so far on so little sleep. And although his wife of fifty years still knows who he is most days, the time has come for him to relinquish her into full-time care. His children are urging it. His GP is urging it. The people who tune up his pacemaker are urging it. Even he knows he has reached his limit.
But a promise is a promise and he can't stop himself trying to find practical solutions to this intractable problem. A different walking frame, a renovated bathroom, a new drug, surely to goodness there must be some drugs out there that can bring his wife back. But the doctors shake their heads.
Soon my father will open the passenger door of their car and help my mother out of her old life and into her new – her final – life, for the first and last time. And my father will have no one to invent things for, or to try to lead out of the wilderness.

And now, at the kitchen table, I breathe deeply and wait for him to lift his head again. Then I ask the question the story demands.

'So what happened with the dog?'

His eyes still can't meet mine. 'I had to leave him there'. But he has a question, too.

'What else could I do?'

(This essay was first published anonymously in The Big Issue in 2019)


October 18
When it came to funeral planning, my mother had only two requests. She dictated them to me a year ago, when she could no longer write. Margot wanted 'no church but lots of music', and she wanted her body to be 'left to science'. When she died seven weeks ago in the middle of Melbourne's lockdown, we were able to fulfil her first request, but the second proved impossible. The bodies of those who've had Covid19 are not currently welcomed by the medical research establishment. Instead, Margot's death is being co-opted by those preaching a brand of politics she loathed.
On Monday the Victorian opposition leader held a press conference on the lawn beside state parliament.  Around him was planted a battalion of small plastic Australian flags. The flags represented the 791 Victorians who had died from Covid19 – including, presumably, my mother – and were aimed at embarrassing the Labor state government. I know exactly what Margot would have said about this stunt: 'Users.'
When my mother wanted to voice her disapproval, 'user' was about as strong as it got. Professor Margot Prior was a peacemaker. One of the many achievements of her long career in psychology was co-founding the Psychologists for the Prevention of War. She abhorred aggression, bullying and machismo. She found the selfish individualism at the heart of conservatism deeply upsetting. She was suspicious of the flag-waving nationalism embraced by the right. It would have made her sick to the stomach to know that the Opposition had traded on her death in this way. If Michael O'Brien had bothered to consult with grieving families before planting his forest of flags, we could have explained this to him.
A day earlier I was walking with a friend by the Yarra River. It was the 13th week of lockdown in Melbourne. Her face mask had slipped and was hanging from her ear. As she tried to wrangle it back in place, a passing jogger slowed to a halt beside us.
'Don't do that!' he yelled. 'You don't need it.'
'What do you mean?' my friend asked.
'There's no such thing as the virus. Take off that mask!'
'The virus killed my mother', I said slowly and clearly. But he was on a roll.
'Nothing killed your mother! It's a hoax.'
I wanted to punch him then, right in the middle of his mask-less face. Instead I swore, turned and sprinted away before grief and rage got the better of me. 'Punching people solves nothing', my mother would have said. 'And conspiracy theorists are lazy thinkers. They have no respect for the evidence.'
Science is complex. Politics is also complex, and humans are infinitely complex. To save lives in a global pandemic, you need to look carefully at how those three layers of complexity interact, using the best evidence available to you. Margot died after contracting the virus in a Victorian private aged care facility. As The Saturday Paper has reported, the evidence shows that the private aged care sector was woefully under-prepared for this health crisis. There were over 100 infections in the facility where my mother lived and, despite the best efforts of the dedicated staff, a dozen Covid19 victims lost their lives.
Here's where things get even more complex. The word 'victim' doesn't accurately describe what happened to Margot, because she was ready to die.
The last few years of her life were horribly hard. Diagnosed with Alzheimer's disease at the age of 80, Margot understood better than most how the decline in her cognitive functioning would play out. That brilliant mind of hers had been honoured many times, as a fellow of the Academy of Social Sciences in Australia, an Officer of the Order of Australia, and with a Lifetime Achievement Award from the International Society of Autism Research. She had been Senior Victorian of the Year and was awarded an honorary Doctor of Science for her distinguished contributions to psychology research. Now her beautiful brain was disintegrating, taking speech, memory and the capacity for joy with it.
A decade earlier, Margot had prepared a Living Will. Her mother had recently endured a slow, painful death and Margot was determined to make sure her own life wouldn't end the same way. My grandmother's suffering provided her with the evidence she needed to fill out her advanced healthcare directive. It clearly stipulated that if she was diagnosed with a serious illness – including dementia – that left her independence and competence compromised and caused her psychological suffering, then she did not want any medical intervention or treatment to prolong or sustain her life.
After her Alzheimer's diagnosis in 2017 my mother slid into a profound depression. She fished out her Living Will from the filing cabinet and pointed to the word dementia, demanding to know why she shouldn't be allowed to die. Her suffering was contagious, and our family became singularly focussed on how to restore her will to live. We weren't ready to let her go. With treatment, her depression eased a little and she worked hard to find meaning in an increasingly constrained life. A year later, though, Margot was diagnosed with bone cancer. This was her chance. If she opted for no cancer treatment, she would potentially have an escape route from the rapidly progressing Alzheimer's.
What a dreadful choice – a physically painful death of limited duration, or a physically and psychologically distressing slow decline of unknown duration. My valiant mother struggled to decide and consulted her family. We suggested she try the treatment, keeping open the option of pulling the plug if she changed her mind. We still weren't ready to let her go.
The balance was finally tipped when Margot was offered the chance to take part in a drug trial. If she participated, she could contribute to science. If the drug treatment failed, her death would at least provide useful evidence for her colleagues in the field of medical research.
Margot beat the cancer, but the Alzheimer's was relentless. It made this calm, courageous, outspoken woman angry, fearful and inarticulate. In the final year of her life she repeatedly asked us why she didn't qualify for the new Victorian Voluntary Assisted Dying Scheme. When the corona virus hit Melbourne, she was locked down in her aged care facility for many weeks. Prevented from visiting, my siblings and I sang to her over the garden fence, and our father spoke to her on the phone, but her illness made these conversations incredibly challenging.
Human emotions are complex and often contradictory. When my mother tested positive for coronavirus, I was terrified and relieved in equal measure. She was tormented by loneliness, confusion and physical disability. Loss of independence and competence. Psychological suffering. No medical intervention. It was all spelt out in Margot's Living Will. Time to let her go.
Ten days later, my mother passed away. We held a small socially distanced funeral for her with no church, lots of music, face masks, funny stories and tears. In spite of my grief, it was one of the happiest hours I'd had in weeks. My family were together at last, and our precious Margot was no longer suffering.
Some right-wing commentators, including former Prime Minister Tony Abbott, have been urging governments to re-consider the value of an individual life in a pandemic. Specifically, they appear to be suggesting the lives of elderly people are less valuable than other lives, and could be sacrificed in order to re-start the economy. My mother was ready to die, but her husband is alive and well, and spends every day of the week helping other people. Margot would horrified by the idea that his life was considered expendable.
I refuse to concede my mother's death to the politics of conservatism. She believed in kindness, equality and science. If her death in a pandemic can be used to inform kinder, more egalitarian, evidence-based policies that might prevent deaths in future pandemics, maybe Margot's wish to leave her body to science will be granted after all.
(This essay was first published in The Saturday Paper in October 2020)
October 11
(The following obituary was written by one of my mother's colleagues and published in The Age in October 2020.)
Margot was the best of us. She was a life affirming humanist, artist, environmentalist and scholar. She was a mentor to many and a much-loved friend. But at the heart of it she was a deeply passionate member of a large and brilliant family who sustained her through loss and love.
A classical musician who trained at the Melbourne University Conservatorium, Margot was a brilliant pianist and oboist who played in orchestras in the UK and Australia, and in recital on the ABC. She married a musician, Glenthorne Prior, who she met when she was a student, and with whom she had three children, Yoni, David and Sian.
While the couple were living in Brisbane and Glen was playing with the Queensland Symphony Orchestra, he drowned while saving two colleagues who got into trouble in the surf. Margot was left a widow, with her youngest child just three months old, and the eldest five years old.
Through necessity, Margot returned to Melbourne and study, retraining as a psychologist at Monash University. Having distinguished herself with a master's degree which was focused on the then little-known condition of autism. She was offered a tutorship and began a PhD, the latter also on autism, which she completed in just two-and-a-half years, a rare feat. Margot published the first Australian journal article on autism in 1973, later to become known as autism spectrum disorder.
Margot remarried in 1969 and is survived by her adoring husband John Hansen, who had four children of his own, creating a large and blended family.
In the midst of this busy time, Margot completed her PhD and took up an academic position at La Trobe University in 1976. It was here that she shone most brightly. Her interests grew to encompass many other early childhood conditions, including attention and language disorders.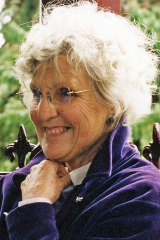 Her interests in clinical and developmental child and family psychology led to her research in childhood temperament, and she is well recognised as the architect of the Australian Temperament Study, which began in 1983 and continues to this day. This study, one of very few that has examined three generations in a single project, has had a major impact on social policy in Australia, and developmental science more broadly.
Margot made highly distinguished contributions to the scientific investigation of child psychology and the application of developmental research to clinical practice and social policy in Australia and elsewhere.
During much of this time, she continued to play in orchestras, which made for a full and busy life. Music remained a core part of Margot's life to the end, but she eventually stopped working as a professional musician as the demands of academia and family life consumed much of her time.
Margot's career blossomed and she was recognised as a leading figure in the field of psychology, becoming the first female professor of clinical psychology in Australia in 1989, and establishing the first clinical psychology doctoral program in the country.
Beyond her scholarly and academic work, Margot has been a prominent voice for child welfare, peace and social justice initiatives. She was one of the founding members of the Psychologists for the Prevention of War and co-established the La Trobe Institute for Peace Research. She also co-founded the Victorian Parenting Research Centre in 1997 (now the Parenting Research Centre) and contributed to the development of diagnostic standards for autism in Australia.
Margot moved to the University of Melbourne to take up the position of inaugural director of psychology at the Royal Children's Hospital in 1995, where she continued her stellar work. In addition to leading research in the area of developmental psychology and psychopathology, Margot mentored a generation of early career scholars and clinicians and was well regarded for her warmth and generosity and well as her fierce intellect and commitment to social and welfare issues. She was a widely read newspaper columnist and media commentator for many years, her advice and opinions doing much to raise the level of public understanding about child development in Australia, and autism in particular.
Her work frequently led her overseas to present at many academic forums, including chairing the Social and Human Sciences Network for UNESCO (2005-2007). She would also travel on missions to places like India and Vietnam to undertake development work including training clinicians to support children with developmental challenges. She was often the go-to person for issues on child development, being invited to write reports for government, and even providing evidence in court for cases involving children. She had a keen interest in indigenous affairs and volunteered in an inner-city Aboriginal Health Service for many years.
Following retirement from her position at the Royal Children's Hospital in 2002, Margot continued her involvement in research at the University of Melbourne and La Trobe University. She was the inaugural chair of the Advisory Committee of Australia's first autism research centre at La Trobe, the Olga Tennison Autism Research Centre, established in 2008, and held this position until her 80th year.
The Victorian Autism Specific Early Learning and Care centre at La Trobe was named after her in recognition of her long contribution to autism intervention science and service. She was also a patron of Amaze, the peak autism body in Victoria.
Margot had a long and illustrious career during which she received many honours including being made an Officer of the Order of Australia in 2004 and being named Senior Australian of the Year for Victoria in 2006.
She was a fellow of the Academy of the Social Sciences in Australia and of the Australian Psychological Society, where she also received the President's Award for Distinguished Contribution to Psychology in Australia. In 2016 she was awarded a doctor of science (honoris causa) for her distinguished contributions to scientific and clinical knowledge of developmental psychology, and in 2018 received the Lifetime Achievement Award from the International Society for Autism Research.
Margot was a pioneer and leaves an important legacy. Hers was a life well lived, to the fullest, and one that will be celebrated for a long time yet. Those of us who knew her, worked with her and loved her were indeed blessed.
She is survived by husband John Hansen and three children Yoni, David and Sian Prior.
Professor Cheryl Dissanayake is director and chair, Olga Tennison Autism Research Centre School of Psychology and Public Health La Trobe University, Bundoora campus.
October 5
I used to think the greatest gift my mother gave me was music. She taught me to play the piano, encouraged me to join choirs and orchestras, and accompanied me as I sang. At her surprise sixtieth birthday party, my siblings and I thanked our mother by singing her favourite songs in four-part harmony, including Ian Dury's 'Sex and drugs and rock and roll'.
I've recently changed my mind. Music makes me happy, but the greatest gift my mother Margot gave me was a respect for science, and for what she calls 'the evidence'. As a professor of psychology, she set up rigorous research projects, then worked out how the evidence they produced could help people live better lives. Margot had no time for snake oil sellers spruiking miracle cures – 'there's simply no evidence', she'd say with a beatific smile.
Three decades ago, in my work as an environment campaigner, I looked at the scientific evidence of ozone depletion and used it to argue for phasing out ozone-destroying chemicals. More recently, as a journalist, whenever I've read or heard something that seems implausible, my mother's voice echoes in my head – 'where's the evidence?' – and I delve a little deeper.
In this frightening new age of fake news, conspiracy theories and 'feel-pinions', Margot's advice has never felt more urgent. Conspiracy theories might make you feel good, allowing you to believe that nothing is your responsibility and that malevolent forces, rather than complex human behaviours and systems, have created All The Problems. But most conspiracy theories are without credible scientific evidence, and 'feel-pinions' are usually feelings that morph into opinions that morph into antisocial behaviour.
Take those protestors who've been dismissing the threat of Covid-19, for example, and ranting against mask-wearing and social distancing. They could do with some stern advice from my mother. Their protests may have given them fifteen seconds of fame on the nightly news, but their views are not supported by scientific evidence.
Unfortunately I can't organise for Margot to speak with them. Turns out the health experts were right about the dangers of Covid-19. A month ago, this virus took my mother's life.
So to all those anti-lockdown, anti-mask, antisocial protestors, here's a tip. If a bunch of highly respected scientists advise you there is no evidence for your conspiratorial feel-pinions, please think again. Lives may depend on it.
(This column was first published in The Sunday Age and the Sydney Morning Herald in October 2020)
Upcoming Events
Past Events